Echo Charlie's Bayside Restaurant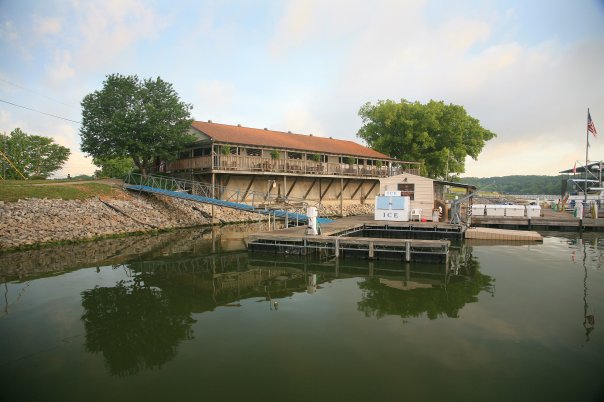 Throughout the Land Between The Lakes National Recreation Area there are resorts and camp sites that have restaurants that as an integral part of the resort facility. The restaurant might be part of the resort hotel or it might act as the dining  destination second to being the booking office and information center. A good example of the latter is Echo Charlie's Bayside Restaurant.
Echo Charlie's is found at Eddy Creek Resort on Lake Barkley, Kentucky (7612 State Route 93 S, Eddyville). As you approach, it really doesn't look overly imposing. It appears as a simple lakeside boathouse but inside it opens into a large comfortable room with polished wood tables and chairs and huge windows through which you can gaze at the amazing view of the marina, lake and woodlands. There's also a large deck where you can enjoy a meal al fresco.
The menu at Echo Charlie's has a boating theme with side dishes being headed up as dinghies, starters as hoisting the sail,  the soups are from the galley,  sandwiches are on deck, and your kids will love being "first mates". The mainstay of the menu at Echo Charlie's is local and traditional, good ole southern cooking.  If you enjoy a hearty breakfast then you'll love the extensive range which includes eggs, ham, steak, pancakes, omelettes, hash browns, grits, biscuits and gravy and even a breakfast burrito.  You choose lunch or dinner from the same menu and as well as the ubiquitous steaks and catfish, there are some delightful departures from the normal fare. If you fancy zucchini rounds or toasted ravioli how about following it with grilled Yellow Fin tuna with chipotle mayonnaise? Chicken comes in fingers, grilled or as a chicken salad croissant and if you love buffalo wings back home, at Echo Charlie's you could try Bubba's Key West salt wings.
Ask for your coffee to be served on the deck and enjoy the view or have your entire meal packed up for take out and find your own picnic spot on magnificent Lake Barkley.