Willow Pond Catfish Restaurant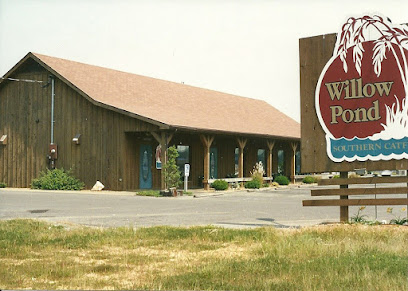 Willow Pond is the sort of place that feels like a secrete that you want to keep. When you walk in you know about to sit down to a meal in a place that is home spun and full of great offerings.
This isn't a restaurant with a fabulous view of a lake like so many in the LBL but it is a restaurant that sells quality food with a southern flavor in a friendly home style atmosphere. Willow Pond Catfish Restaurant is also undergoing internal renovations in 2010/11 making it even more welcoming.
You can find the restaurant at 124 Highway West, Eddyville just up from the West Kentucky Factory Outlet Mall. There are two rooms seating 125 for casual dining in a low slung wooden building.
What better way to be greeted to your dining experience than a plate of hush puppies whilst you pick from the extensive dinner only menu? Naturally, traditional southern dishes feature heavily on the menu but there are some surprises too.
Appetisers are as the usual range of casual dinner menus but how about some fried dill pickles? For seafood delectation there's the wonderful locally caught catfish, but why not try some frog's legs? The Pond's Platter includes catfish, frog's legs and shrimp. There's mains of chicken and Certified Angus Beef which also fill various sandwiches. Round it all off with a fresh fruit cobbler or a turtle cheesecake. Kids are welcomed with their own menu. Maybe they'll like the popcorn shrimp with white beans and hush puppies rather than chicken tenders for a change.