Harper House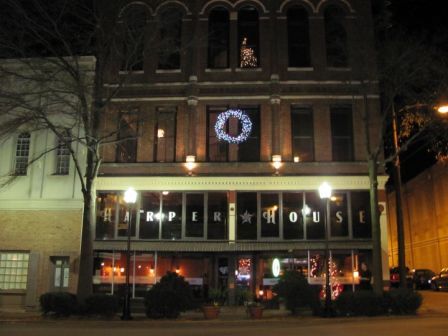 There are over 250 restaurants in the Land Between The Lakes offering everything from vegan cafe cuisine to ice cream. A Lot of the establishments keep very much to the tradition of Kentucky cuisine and offer casual dining perfect for those who've
had a busy day out on the lakes or hiking through the gorgeous countryside. If you want something a little more upmarket, there's Harper House Restaurant.
Harper House is in Hopkinsville at 914 South Main Street and they advertise vintage American casual favorites in a warm comfortable atmosphere. Hopkinsville is a typical LBL town which draws visitors thanks to its proximity of the lake area's attractions and owners Nelson Green and Chris Daniels have set up shop with Chef Lane Meinert to serve townsfolk and sightseers lunch Wednesday to Friday and dinner Wednesday through Saturday.
The restaurant is in a restored 100 year old building and has a decor redolent of the 1930/40s, with big band music playing and also a projection of black and white and silent movies. Like the nightclubs that feature in so many of the those 30s movies, the Harper House has an extensive drinks menu with a full range of beers and wines, including champagne but you really have to try something from the Martini selection which is nearly as long as the food menu. With a bar stocked with 22 different vodkas the scope for martinis is endless.
As you sip your cocktail (or two), you can peruse the menu which is exactly as they advertise. Familiar American classics cooked with a Kentuckian air and a decidedly cheffy flair. Take the house salads for instance. There's a great selection of fresh cut salads that sound more exotic than garden like the Winter Rocket Steak Salad which is marinated Hanger steak with arugula and romaine with blue cheese crumbles, fresh figs, diced sweet potatoes, toasted cashews and all dressed with Agave Honey Mustard. There's a fresh seafood catch of the day every Wednesday and they've been known to hold wine tasting classes.
Are you feeling hungry yet?