Oak Haven Resort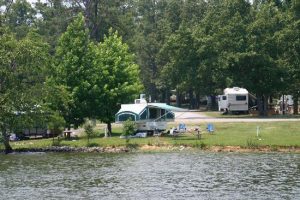 This Kentucky Lake Resort is a family resort located in West Tennessee on the shores of beautiful Kentucky Lake. The resort provides lodging, hunting, fishing, beautiful views and tranquility for the entire family. Oak Haven Resort has been family owned for 25 years, and the staff of Oak Haven stands ready to fulfill your every vacation need.
Oak Haven Resort offers full trailer hook-ups as well as cottages, and beach side access to Kentucky Lake and Big Sandy River. Oak Haven offers clean cottages and apartments in a quiet, family oriented environment. Paris Landing State Park, just 1.9 miles away, has one of the area's finest 18 hole golf courses with other public courses nearby.
The resort spans 7 acres overlooking lovely Eagle Bay. A stay at Oak Haven Resort means you are a part of the family!