Purple Toad Winery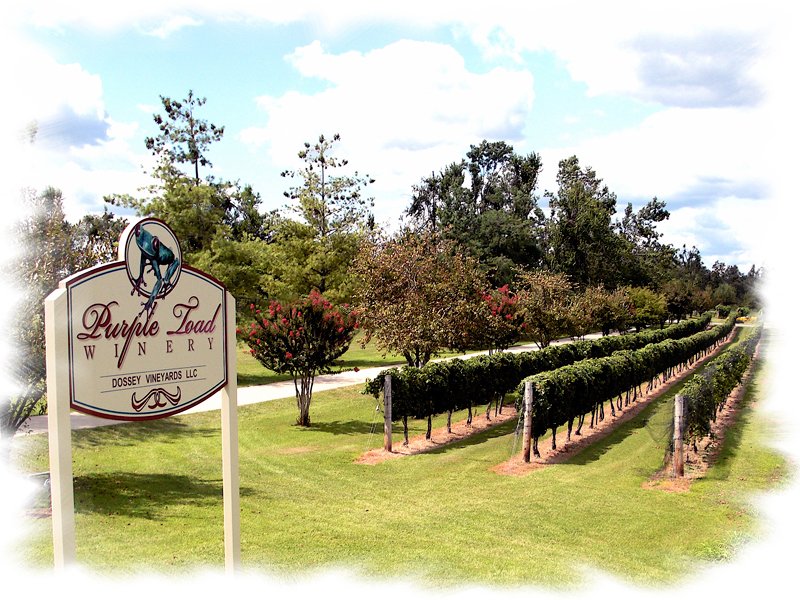 With agritourism in the Land Between The Lakes blooming, a number of vineyards are offering not only a great selection of hand crafted wines but also great days out. The properties are usually in beautifully scenic surroundings so it's a pleasant experience even just making your way there. One of the vineyards that stands out not only as a commercial vineyard that has opened it's doors to the public but has also developed a successful brand image, is Purple Toad Winery.
Purple Toad Winery is located at 4275 Old US Highway 45, Paducah Kentucky and is owned and worked by husband and wife team Allen and June Dossey. This is Paducah's only commercial winery and is a real tourist hub. Unlike many of the small artisan wineries of Kentucky Purple Toad wines are available at Liquor retailers throughout West Kentucky but that's not half as much fun as visiting the winery, tasting the wine and choosing them for yourself.
Purple Toad Winery is a very professional set up and in a short time since it began in July 2009 has developed a place that people want to visit. You can take part in a tasting of delicious wines that have already gathered more than 50 medals and awards. Wines are from a selection of dry, semi-sweet and fruit which are made from produce from local orchards and are tasted alongside Kentucky made chesses. You can try Paducah Red, Paducah Blue, Lauren's Blackberry or Steven's Strawberry or Peach Chardonnay as well as single grape Merlot or Pinot Noir. Buy your choice at the gift shop and choose a gift basket to take home for friends. Purple Toad branded merchandise including T Shirts and glasses is also available.
Purple Toad Winery is a great place to hold a special event such a wedding, party or fundraiser as a new pavilion was added in late 2010. This pavilion is also the focus for vinery organised events where wine tastings are accompanied by a local band or musicians. Check the website for schedule and details.