Center Furnace Trail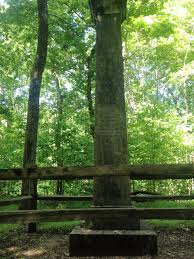 A must see for history buffs and hikers, the Center Furnace Trail in the Land Between the Lakes offers a fantastic up close view of the historic Center Furnace near Hematite Lake and the Land Between the Lakes Nature Station.
The LBL interpretative trail is approximately .3 miles (a 30 minute hike) in length and is rated as easy. Iron Ore production at Center Furnace virtually ceased at the beginning of the Civil War, but the Center Furnace Trail, offers an opportunity to view the partially deteriorated furnace.
It is an excellent guided walking trail and includes exhibits and markers explaining the historical significance of the furnace in pre-Civil War times. The trail gives hikers an idea of the impact of the iron industry on the land and its people. Beyond the historic journey, the trail offers a beautiful hike that demonstrates the unique qualities that make the Land Between the Lakes such a great place for nature lovers.