Grand Rivers Walking Trail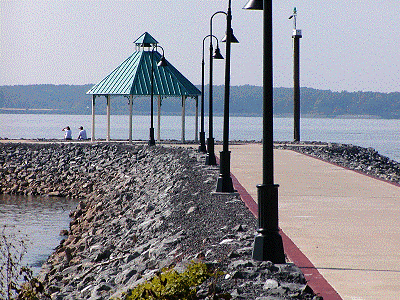 If you love hiking where there's plenty to see and do, head for the Grand Rivers Walking Trail. This is a trail that starts with a spectacular view and ends in a perfect place to relax after the day's exercise.
Grand Rivers Walking Trail is found at the northern end of the Land Between The Lakes National Recreation Area in Livingston County, Kentucky. LBL is a region of forested peak ridges and parklands between Lake Barkley and Kentucky Lake renowned for an excellent conservational program delivering nature themed activities to visitors in breathtaking landscapes.
The Grand Rivers Walking Trail is located on Kentucky Lake and walkers can easily cover the distance there and back in under a day making this an ideal trip out and here's plenty of parking at the trail beginning. You start out at Grand Rivers Jetty pavilion which was built in 2003 and is near Lighthouse Landing. Make sure you take in the superb panorama from the Jetty before setting off as the view was voted the 4th most scenic view in the south by Southern Living Magazine in 2009 and one of the top 50 most romantic spots in the country by Cosmo readers in 2006.
From the Jetty you walk about 1 mile of Grand Rivers' paths to Little Lake Park on the east side of town and then 1 mile beyond through a nature area. The trail is really easy to follow because it is recognisable for its distinguished red border. You'll walk along downtown roads, alongside the lake and on tree canopied pathways (go in fall for a riot of autumnal colours) and all at your own pace.
You can stop off anywhere you like on the Grand Rivers Walking Trail. Halt in town at the famous Patti's 1880 Settlement for a two inch port chop and flowerpot bread then walk it off by visiting the numerous unique shops or take a leisurely stroll along the full trail and back to the Jetty where you can enjoy a public beach area or bench sit to admire the fantastic view.