Hiking In Kuttawa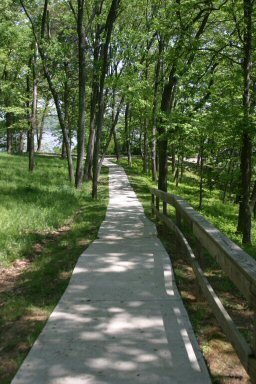 The Land Between The Lakes National Recreation Area is a fantastic destination for anyone who loves the great outdoors. With over 170,000 acres of land making up the peninsula between Lake Barkley and Kentucky Lake, 3,500 miles of lake shoreline and all the massive area surrounding the outer region of the lakes, the potential for days out and activity vacations is countless.
There are many trails throughout the area designed for you to take advantage of the stupendous scenery and the wide variety of wildlife.
Hiking is a particularly good way of seeing the beauty of this area and if you head to the northern end of Lake Barkley and the town of Kuttawa you'll find some great trails as well as being able to enjoy the attractions of the town and its immediate area.
The trails around Kuttawa are ideal for everyone, Â whether you're a seasoned walker or just an enthusiastic ambler. In an area named with a word mean beautiful in Shawnee you can imagine the sights are going to be stupendous. The Kuttawa Nature Trail starts on Lake Barkley Drive in Old Kuttawa just across from the public boat ramp and continues for 3 peaceful miles through the mountains. This trail is a chance to see a huge variety of trees, maybe up to 40 different species and also nesting warblers, vireos and wild turkeys. If you're lucky you'll see Canada geese, deer and maybe even buffalo. The City Park Trail is a more gentle wander and includes paved areas suitable for wheelchairs and again the scenic setting is the attraction. Here you can sit on a bench and watch the boats go by or just drink in the view.
Off trail you'll find Kuttawa to be a beautiful peaceful town with a marina and a harborside restaurant where you can enjoy the famous Rudyburger and a sandy public beach with bathrooms, grills and picnic tables or you might like to choose Buzzard Rock Resort as a base camp for your Kuttawa hiking and lake Barkley activities.